Chris Jessie's

Weather Wrap...
10:30am – Friday, July 20th, 2018
Unusual Heightened Severe Risk For July Storms…
NWS and the weather community has been very good with public awareness for the expected severe weather setup across our region for today and tonight. You've likely heard that damaging hail and winds are likely from storms, so I'll jump right to the latest info from the Storm Prediction Center/NWS:
<![if !vml]>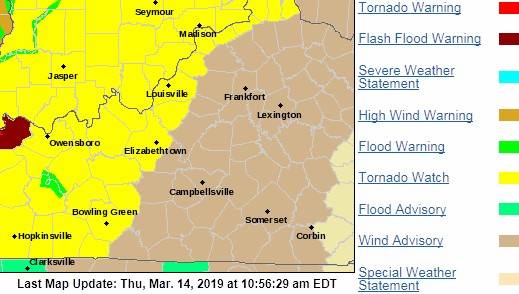 <![endif]>
Storms will fire up this afternoon and supercells could be a result. While a large scale tornado outbreak is not expected, supercell development can often lead to long-track tornados on the higher end of the EF scale. It's kind of like remembering a winter with a huge snow storm… Maybe the overall winter wasn't that bad – but we had that one HUGE snow that made people remember it as the worst ever. So be aware of tornado potential.
The main threat indication here after looking at the latest data continues to be large hail and strong downbursts which produce straight-line winds. Be sure you've put up all your yard furniture/umbrellas/trampolines (yes, personal experience) and other objects that could be blown away. It also might be good to garage vehicles where possible and if not, face them in a general eastward direction in efforts to reduce hail impacts with regard to strike angles. The contour of vehicle hoods and roofs makes hail strike angles more steep facing into the storm. With the expected direction and movement today, this can help reduce the severity of hail damage. Most people don't think about it and it's not a guarantee… but it does help.
There will be multiple rounds of storms across the region. Unlike a typical squall line, once storms pass over the area be aware other storms may come through later. We'll likely see individual storm clusters through late afternoon and this evening a line may develop and push through. The threat will last into the evening.
With regard to emergency management… these folks have been watching the forecast closely since early-mid week and are ready to take action. The NWS conference call yesterday helped in putting everyone on the same page. State road crews are also prepared for action and will be ready to clear major debris if needed.
Just remember to be cautious and be aware of surrounding conditions. Don't put yourself in a position to get caught in a situation where shelter is unavailable.
Beyond today and tonight, on/off thunderstorms will be with us through the weekend and scattered storms will continue into the middle of next week.
Check your weather radio or alert device and be sure you check online and media sources throughout today and tonight for the latest.
-Chris
3:30pm – Tuesday, March 20th, 2018
More Slushy Snow…
I had a meeting this morning and didn't get to send an early post… But, I figure the first day of spring deserves a winter weather update even if it is almost "game time".
If you've watched general forecasts over the past couple of days, you've seen an expanding area of expected snow accumulation across Kentucky. The updated Winter Weather Advisory for this one reaches well west of I65.
<![if !vml]>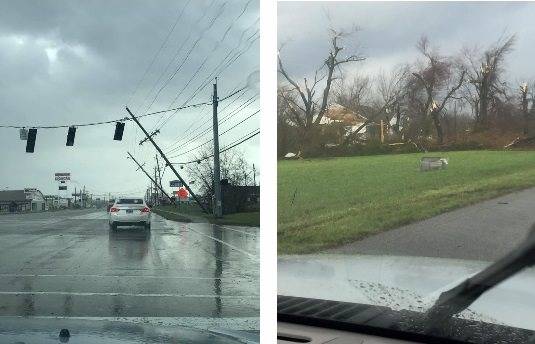 <![endif]>
Wet snow will begin tonight into Wednesday morning for another possibility of a slushy commute to start the day. Much like the two systems from last week, temperatures will hold in the lower 30s. Cold air forcing may get northern areas to the upper 20s, but still, there is not a lot of deep cold air here. Ground temps are much warmer, so a lot of snow will melt. Our primary concern will be the 2-3 hours around and after daybreak. It is the time roads can most likely experience freezing effects. Highway crews will mostly plow any areas with an accumulation. Spot salt treatments may be needed but general chemical treatments will not likely be widely used.
As far as snow totals, there is a pretty broad swath of moisture with this low. Pinpointing heavy bands is next to impossible at this point, but here is the general LOCAL area of expected accumulations of 1-4 inches. I think higher end totals will be pretty scattered. Much higher totals are expected well to our north and into the Virginias.
<![if !vml]>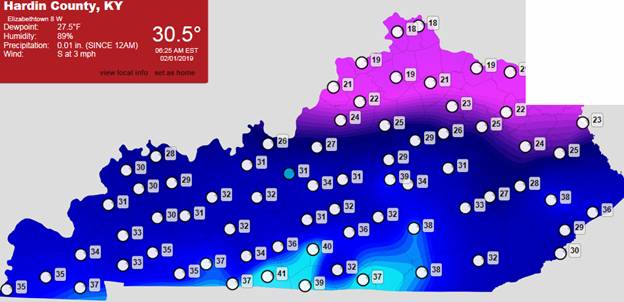 <![endif]>
Keep in mind, an area may receive a few inches of snow from the system but that doesn't mean all of the snow will be accumulated at any given point. As it falls, much of it will melt… so a location may receive 3" but only measure 1-2" at a single snapshot. I think people misunderstand that in a forecast many times. The forecast is for a "total" storm amount rather than a single point-in-time measurement.
For those who see a measurable amount, this should really be another wet, snowman, "fun" snow. It should melt off with highs around 40 on Wednesday. Any water could refreeze Wednesday night, with temperatures falling into the lower and mid 20s.
There are a couple of additional chances for snow showers this week. Particularly, I'm keeping my eye on the models for Saturday. One output is currently indicating another significant accumulation for the northern part of our area. Temps still look a little warm to me for it, but let's continue to see if it trends any colder.
-Chris
2:30pm – Tuesday, March 13th, 2018
Lite Snow Tonight For Eastern Counties...
A couple of slick spots are possible on Wednesday morning, especially for the Eastern side of our region --- Recapping real quick, If you've not seen the totals map from Monday morning, take a glance... quite impressive for a mid-March system.
<![if !vml]>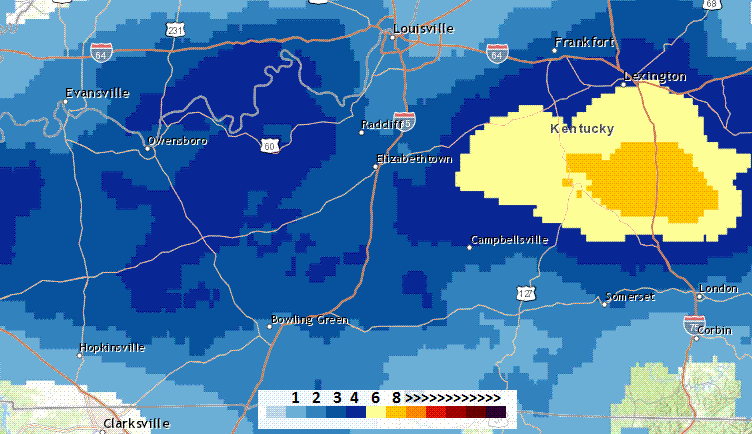 <![endif]>
It's also the 25th anniversary of the Snowstorm of the Century... on this date in 1993, nearly 30" fell in only 24 hours in portions of Eastern Kentucky where an estimated 3,000-4,000 motorists were stranded on I75, I64 and other routes.
Nothing like that tonight, but a quick mover will bring snow showers with anywhere from a skift to a couple of inches are possible late tonight into Wednesday morning. Temperatures will be colder than they were during Sunday night's snow. Ground temps are also a bit cooler, so icy patches are possible where as the previous event was mostly slush.
<![if !vml]>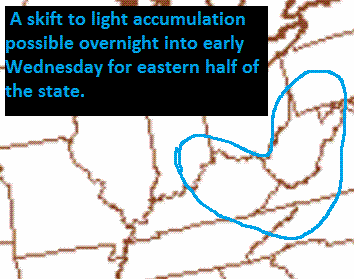 <![endif]>
Tonight will be the coldest of the week. Temps will warm up a bit up to this weekend. The northern part of our region may see another shot of snow Saturday. We'll keep track on that. Here's a quick peak at the GFS snowcast for early Saturday.
<![if !vml]>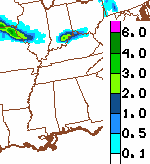 <![endif]>
Winter is trying to stay around. The longer range doesn't look all that cold, but like the past few days, still shows a few more possibilities of warmer/wet snow in the next couple of weeks.
-Chris
7:30pm – Sunday, March 11th, 2018
Snow Quick Update...
Tonight is very much on track with our previous post. A Winter Storm Warning is in effect for the strip of Central Kentucky between the Bluegrass and Cumberland Parkways. Winter Weather Advisories are in effect for areas on the north and south of those parkways, respectively.
<![if !vml]>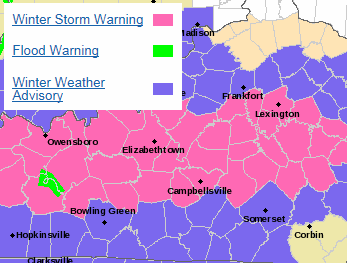 <![endif]>
Western areas are already seeing snow and as heat from the ground dissipates with melting snow, accumulations will begin. Still looking at a GENERAL 3-6" swath through most of the warning area with isolated higher totals. Snow should be heaviest for most of our area in early morning hours.
Expect a heavy, wet snow that packs at first and then turns into a soupy slush of a mess. With ground temps warm, I do not anticipate a lot of freezing/bonding to road surfaces, so it should plow off very easily. Still, it will take some time and Monday morning's commute will be quite messy for some.
We'll warm into the 40s, so plenty of melting will take place. Upper 20s for Monday night with a few slick/frozen spots on Tuesday morning... Tuesday night features a slight snow chance in some of the newest model output. It doesn't look like anything major, but Tuesday night will be the coldest of the week with temps in the lower 20s. 40s on Wednesday and 50s back by Friday.
-Chris
10:30am – Friday, March 9th, 2018
Late Season Snow Chances...
Couple of quick things... Spring forward Saturday night with the time shift. Florida has decided to quit observing Daylight Savings Time. Should Kentucky? Though neutral on the idea. I do dislike driving across the time zone every day, but that wouldn't change anyway... so whatevs. Also, remember to check/replace smoke detector batteries.
Now for weather... We're into March but the pattern actually looks more winter-like over this/next week than it did through most of February. There are a couple of snow chances this weekend and longer range may support chances still to come in a week or so.
Tonight into Saturday... a quick mover will produce snow much like some of the Bluegrass and Eastern portions of the state saw on Thursday morning. 1-3" totals are the expectation from about Louisville extending Southeast. For most of us, we'll not stray too far from the freezing mark, so melting should occur quickly. A Winter Weather Advisory through Saturday morning is posted from NWS.
<![if !vml]>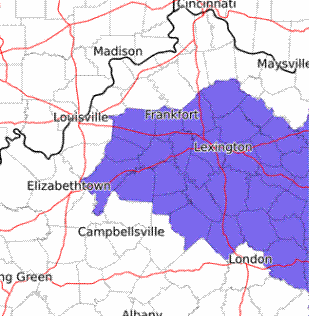 <![endif]>
Sunday, another quick mover will give the region a chance of snow. We have a couple of different lows in play here, so forecasting has to take into account development/movement/phasing potential for both. Right now, this could be a more significant event than tonight's, but specifics will come more into focus with the next few model runs. With temps tonight barely getting to freezing (if they do), Sunday night will be a little colder -- perhaps in the upper 20s. GFS/NAM/EURO are all showing considerable differences at this point. While they are showing different movement and phasing features, both GFS and NAM are showing output of 4-6" totals. Keep in mind, this is not an extremely cold forecast and ground temps are not really all that cold, so melting would occur, meaning though we might see an overall total that high, a snapshot measurement from your driveway would not likely be as high. Taking into account a couple of other good ole Kentucky weather forecasting factors, here is the best idea for accumulations at this point...
<![if !vml]>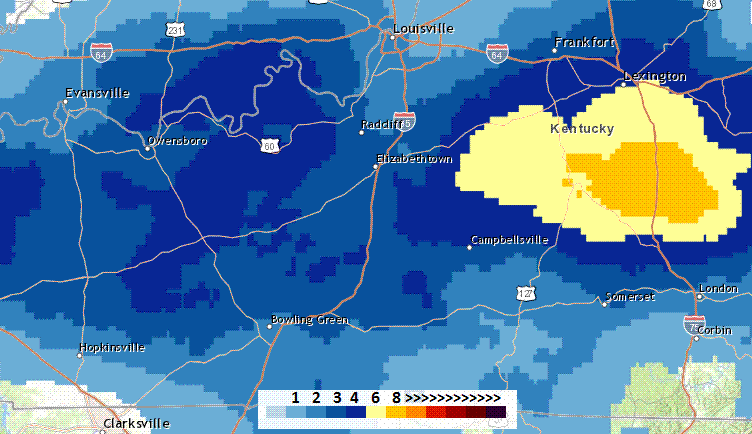 <![endif]>
Both tonight and Sunday night/Monday would be wet snows. If needed, plowing and salt treatments should be very effective for our road crews. Hard freezing and ice should not be an issue but more packed snow then slush.
Longer range, March is ripe for extremes. We'll be near normal on the Eastern U.S. later next week and then by week after next another shift and trough for the East is indicated around the 19th. If that setup holds true, any system riding down that trough could bring sloppy wet snow chances. It's really hard as we get into mid/late March for deep cold air to come this far south, so don't think too hard about that... It's a very general outlook.
In the meantime, enjoy Winter's attempt to hang around and Go CATS!
-Chris
5pm - Sunday, February 11th, 2018
A quick chill then much warmer...
Before we get into the mid-upper 60s later this week, we have a pesky wave of winter that will push through overnight with temps falling into the upper 20s for much of the area. Some mixed winter precip or light snow will accompany the cold snap. Most roads have dried well this afternoon, but there could be a few slick spots early on Monday morning. A Winter Weather Advisory is in effect for several counties in the region. Any problems early on Monday should quickly go away with temps warming into the lower 40s through the day (cooler north/warmer south). Then… some of the models are hinting at approaching 70 degrees by Thursday!
<![if !vml]>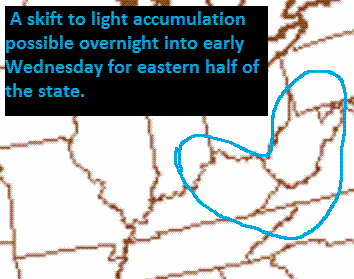 <![endif]>
...WINTER WEATHER ADVISORY IN EFFECT FROM 10 PM EST /9 PM CST/
THIS EVENING TO 7 AM EST /6 AM CST/ MONDAY...

* WHAT...Snow, sleet, and freezing rain expected. The wintry mix
will result in slippery conditions on sidewalks, roads and
bridges, including during the morning commute on Monday. Total
snow and sleet accumulations could reach a half inch, and ice
accumulations of 0.05 inches are possible.

* WHERE...Portions of east central Kentucky, north central
Kentucky and south central Kentucky.

* WHEN...10 PM today to 7 AM Monday.

* ADDITIONAL DETAILS...While the wintry precipitation will have
ended by sunrise Monday morning, some untreated road surfaces
could be icy and slick. Motorists are strongly encouraged to
slow down and allow plenty of time to reach their destinations.
-Chris
6am – Wednesday, February 7th, 2018
Quick update…
Best current visual is summed up pretty good with this graphic from NWS Louisville…
<![if !vml]>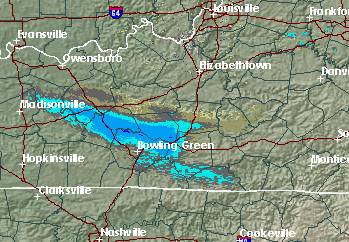 <![endif]>
Temperatures have performed about as expected overnight. The precip swath has been lighter on the cold side of the freezing line. With temps right on this line, folks need to use caution driving this morning. Some freezing drizzle will continue as mentioned above and it will not show on radar. Only a couple of schools are closed at the time I composed this post. We'll see what the next hour or two holds through AM Drive. Folks also need to pay attention to parking lots and walkways… oooh. Painful memories here.
Current temps:
<![if !vml]>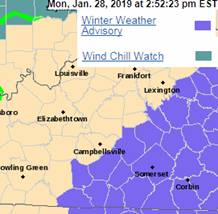 <![endif]>
Temps will drop a couple more for most of us and hold through the morning and then rise a couple of ticks this afternoon. Lows tonight in the mid-upper teens. 38 on Thursday, 50s on Friday.
We're watching for another rain to snow setup for Sunday night into Monday.
-Chris
9pm – Tuesday, February 6th, 2018
Snow, ice or rain… v1.3
Radar is showing about what is expected at this point. The precip type layers are showing up very close to the forecast track.
<![if !vml]>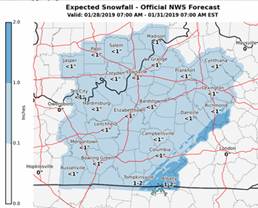 <![endif]>
Over the next couple of hours, we'll see if the warm air wins out a little more over north-central Kentucky. The Winter Storm Warning to our north has been resized to include several additional counties.
<![if !vml]>

<![endif]>
My instinct from looking at various composites still wants to shift the waring area a little west. Again, we'll see.
Interesting from the Paducah office. Ice Storm Warning now up for several counties just west of the border.
<![if !vml]>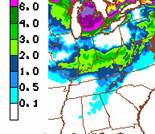 <![endif]>
Radar and temps will unfold the story over the next few hours. Be prepared for slick conditions in the morning if you are in the advisory areas, maybe even slightly to the south.
-Chris
3pm – Tuesday, February 6th, 2018
Snow, ice or rain… v1.2
The National Weather Service Conference Call from just a bit ago really didn't produce any major changes in our thoughts for tonight and early Wednesday. We're still looking at a "graphical cake layer" (which flavor do you like?) setup with significantly different weather conditions over a short distance north to south.
<![if !vml]>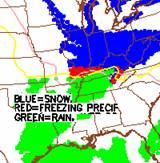 <![endif]> <![if !vml]>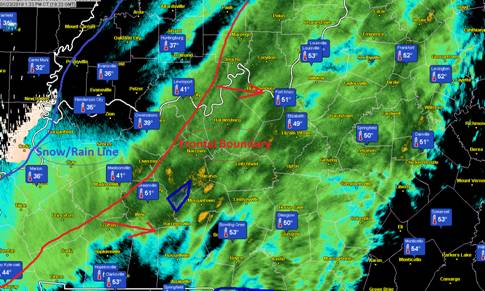 <![endif]>
Timing looks like rain this evening developing for the south. Overnight, as it creeps north into colder air, transitional zones to a mix and further north, snow. We're still looking at the majority of winter precip being along and north of the Western Kentucky and Bluegrass Parkways toward the Ohio River. Icing is likely to be a problem in the pink shaded area heading into Wednesday morning. A Winter Weather Advisory is in effect for most of the area in this description. A warning has been issued for some of the upper Bluegrass Region between Louisville and Lexington. A Flood Watch has been issued for areas south of the advisory.
<![if !vml]>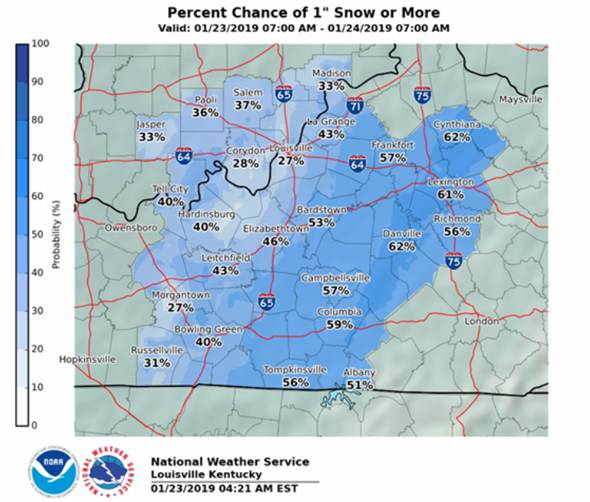 <![endif]>
Amounts of up to .25" ice are possible in the warning area. I could see that shifting west as we see things develop this evening… we'll see. In my meeting with our road crew folks just a bit ago, we talked about the fact a coating of ice on roads doesn't have to be nearly that thick to cause impossible driving conditions. I believe we will see widespread issues as we go through early morning into the Wednesday rush hour for the areas within the advisory and warning. This evening, we will closely watch temperatures and precip swaths to match them up with the forecast. Depending on those readings, we could see a shift in the expected trouble areas north or south. Over and over, the warm vs. cold battle is playing out right over us.
By mid-late morning, precip should push out and temps/solar leak assist in ridding our roads of slick spots. It's going to be the Midnight thru AM Drive period for concern.
I will likely post a couple of quick updates tonight as we observe this event's setup.
-Chris
2pm – Monday, February 5th, 2018
Snow, ice or rain…
Friday, we mentioned much of Kentucky is the battleground for cold and warm air in many of the model trends this week. A setup is taking shape for Tuesday night into Wednesday that will likely see our general region experience very different weather over short distances from north to south.
Quickly, let me mention the possibility of a few snow showers tonight. We could pick up a coating of light snow, especially in counties to the north and east of Elizabethtown. With temps in the mid-upper 20s overnight, a few slick road spots are possible for Tuesday morning.
As we get into Tuesday afternoon and evening, a low will track northeast from the western Gulf states and should allow for plenty of moisture to make its way up into the lower Ohio Valley. Here is where the battleground stuff comes in. Snow on the north, ice in the middle and rain to the south. Right now, models are pretty consistent with placement of the line overnight right around the Ohio River. Here are NAM and GFS "precip type" maps for early Wednesday morning. Snow is blue, sleet is purple, freezing rain is red and rain is green. The pink line you see is the freezing (32) line at approximately 5000 ft…for basic discussion, the weather development zone. The yellow line indicates 32 at the surface:
<![if !vml]>

<![endif]>
I placed the time shots where the precip lines up best. As you can see, they are both in decent agreement with the GFS running the freezing lines about 20-30 miles further south. Notice the NAM is about 3 hours ahead of the GFS on timing… but again, this is pretty good agreement for placement this setup. The NWS forecasts are right in line with this now, so this seems to be a pretty good consensus. REMEMBER… we are dealing with northward surging warm air. Depending on the aggressiveness, it will determine if transitional areas receive more sleet or freezing rain. None of us is a fan of ice. Ice is a potential concern.
If you remember back in early January, a potentially icy setup barely missed becoming a major issue only by about 2-3 degrees. Hopefully, the ice misses here, too. We'll take snow or rain any time. Some of the rain on the south side could be heavy at times.
We'll see if anything new comes out of the models and forecast as the low develops and begins tracking. Advisories could be posted soon. I'll forward them on if NWS does so.
-Chris
2:30pm - Friday, February 2nd, 2018
Active forecast for the next several days…
Thursday night ended up close to expected for most of the area.
<![if !vml]>

<![endif]>
Light snow fell and a lot of it melted, leaving wet roads to freeze as temperatures crashed. Road crews mostly spot treated to help pavement dry before freezing. A few slick patches remain where puddling or elevated run-off froze.
We turn attention to Saturday night and Sunday. From looking at the latest data, my gut wants to say we'll be surprised at some point over the next week. Maybe because of no snow at all, maybe with more snow than expected… or both. Much of Kentucky is battleground for cold and warm air in many of the model trends. Several systems will be pushing across the east half of the country but where will we be? It could be all rain in one county and accumulating snow in the next county. That should also highlight the confidence meter of current 3-5-7 day forecasts.
We open up February with a cold snap, which has been talked about for a week or so. As expected, a trough in the jet is hanging over the eastern US, but it is not as deep as modeling indicated a week ago. It looks to morph but stay intact for the next 5-7 days though it's simply not a drastic dip.
In a general sense, rain and/or snow is expected Saturday night into Sunday morning. Temps at the "weather" level (aloft) will support snow, but temps at the surface really aren't expected to get below freezing. Temps are expected in the 40s on Sunday and then crash Sunday night. For Elizabethtown, 43 for a Sat high, 34 for a Sat night low, 42 for a Sun high and 18 for a Sun night low. The future map in motion shows a whiplash of snow-to rain-to snow movement of the freezing line. Even so, road temps should not fluctuate so quickly. Unless there is a bigger change, freezing roads are not as likely. Still, be prepared in the event you receive a SuperBowl Sunday Wintry Surprise! I'm hesitant to include a snow map, but for what it's worth, here is the National Weather Service Graphical Forecast snow map for 6pm Saturday – Noon Sunday. Don't put too much stock in this one.
<![if !vml]>

<![endif]>
We'll get a break for part of Monday but another wave will push through late Mon/Tue. Temperature setups for Mon/Tue are similar to Sat/Sun.
Just what you wanted, right? A forecast saying, we're not really sure. I calls 'em like I sees 'em. No hype… no wishful guessing. It's just a tough one to call.
I will send an update late this evening if any major tip of the scale happens. If not, look for an update through the day on Saturday.
-Chris
4:30pm - Thursday, February 1st, 2018
Snow update…
Forecast is going about as expected with rain transitioning to snow from northwest to southeast across the state. Moderate snow in Elizabethtown at 34 degrees. The Winter Weather Advisory from earlier has been expanded to encompass the areas we mentioned in the previous post… all counties along and east of I65 and along and south of Bluegrass Parkway… note Hardin County is not included, but is experiencing much of the same conditions. Radar is indicating a pretty good period of snow moving across. Note the heavier band from Frankfort to near Owensboro. Ground temps will fall quickly with snow coming down at this rate. Slush will be possible on roads. That will lead to freezing overnight, as we still expect temps to crash down into the teens.
<![if !vml]>

<![endif]>
There will be slick spots overnight and Friday morning. Temps will push into the upper 20s and vary from north to south for a high on Friday. But, it will be into daylight hours before melting of slick spots takes place.
Upper teens Friday night. 40s on Saturday… and then we could still see moderate snow Saturday night and Sunday... somewhere in the region. Modeling indicates a finicky freezing line. There could be a great difference in weather forecast conditions over a short distance across the state. Latest NAM and GFS both kept the snow line a little further north. The developing low and wave coming down from the upper plains presents some complications in forecasting the weekend outlook. As we mentioned earlier today… I see multiple posts coming. Expect another update Friday morning.
-Chris
6am - Thursday, February 1st, 2018
Snow chances tonight and an active week ahead…
Tonight's setup will really depend on timing. We'll see a cold front push through with temps dropping into the teens by Friday morning. Rain to snow is the current forecast. Everything starts as rain today with a transition late afternoon. Generally speaking, from late afternoon through early morning, a TOTAL of 1-2" can be expected, though some of that may melt before temperatures get really cold. The highest potential will be later in the evening for the southeast portion of the state.
Temps hit freezing by around 9pm... I think the snow will be over and push east for most of us around then, too. Temps crash into the upper teens by 3am.
<![if !vml]>

<![endif]>
Impacts to roads will be tricky to forecast. Our pavement temperature model has temperatures pretty close to air temperatures, hitting 32 by around 9pm (a little earlier to the north and west and later to the southeast). Slick spots will be possible into the overnight and Friday morning. Rain forecast ahead of snow will present a dilemma for road crews and any pre-treating options today. I do not think we'll see a lot of heavy rain, but pre-treating could get washed off. There shouldn't be enough snow for plowing, really. So, timing of treatment when rain changes to snow will be important for counties say generally south of the Bluegrass Parkway and east of I65.
<![if !vml]>

<![endif]>
This will be the first in an active weather pattern… a series of disturbances is ahead. Saturday night/Sunday still looks like a moderate snow event and then a couple more disturbances to follow. The system for Sunday will be interesting. Models are handling phasing of energy and a developing low differently. Much of Kentucky could stay on the breaking point for freezing precip in the next couple of systems.
I will update later today. I see several posts in the near future.
-Chris
2pm - Friday, January 26th, 2018
Look to wrap January and start February...
With January coming to a close, overall, we're going to be slightly above normal temperature-wise. Chances of showers are on the way this weekend with the possibility of heavier rain late Saturday.
A light hit of wintry mix keeps showing up in some modeling around Ohio River Counties early Sunday morning and pushing east, but with temperatures in the mid-30s and warming quickly, I can't see any real issues. Sunday 6am map is below… Red indicates freezing precip with green being rain.
<![if !vml]>

<![endif]>
Sunday night into Monday, we will drop down into the 20s and have a chance of scattered wintry mix all across the region. There may be places that pick up a skift or coating for the Monday morning commute, but we're not likely to see significant widespread snowfall. Map below is for 3am Monday and is indicative of anywhere from around midnite through mid-day.
<![if !vml]>

<![endif]>
We should warm up by the middle of the week… AND THEN --- Let wild speculation begin.
As you may have seen or heard, a pretty strong shot of cold air has been in the long-range forecast for early February. Also, an active weather pattern looks to be taking shape. At this point, any forecast containing details is more likely to be incorrect than correct. As we finish up this weekend and head into early next week, the potential for a Groundhog Day system for our area should be clearer. Until then… let's not get too wrapped up in sharing crazy weather posts on Facebook, eh?
-Chris
7am - Wednesday, January 17th, 2018
Quick update...
Road conditions vary greatly across the area. Most primary routes are in decent shape with a few slick spots. Secondary roads are where conditions can vary most from location to location. Some have good wheel paths while others are still coated. Low volume routes are still mostly covered. Road crews should make good progress today on covered routes. They've had long days over the past week, so our hats off to them.
Primary Routes (I65 pictured):
<![if !vml]>

<![endif]>
Secondary routes (KY 218 pictured):
<![if !vml]>

<![endif]>
Rural/County Route:
<![if !vml]>

<![endif]>
Snow totals in the forecast ended up being about 1/2 of the actual amounts. A couple of models did a GREAT job handling this one. Forecasters (me included) swung and missed on a couple of things. The front of artic air slowed a bit as it pushed through the lower Ohio Valley, allowing those snow bands to stay over the same areas longer. And, the snow ratio with cold air was underestimated. Some of those were way off from the typical 10 or 12:1 ratio. It was a very powdery snow. Cold air allowed for a lot more snow with a lot less moisture to work with. It also ended up in a close footprint to the previous Friday night's snow zone. 3-5" was the general rule, locally with isolated higher amounts. Obviously, western Kentucky received the highest numbers.
<![if !vml]>

<![endif]>
Morning lows... Really cold down in the central part of the state near the TN line:
<![if !vml]>

<![endif]>
We're up hill from here. Cold tonight but probably not quite to last night's lows. Freezing mark tomorrow... should allow for a lot of road melting. A big ridge builds over the eastern half of the US for this weekend, bringing us lower 40s on Friday and upper 40s and 50s for the weekend with a chance of rain showers. Early to mid next week may bring us another front with a chance of rain/snow but it doesn't look like a deep cold plunge at this point. There is pretty good ground coverage of snow on this side of the US. Mother nature's actual conditions and model outputs often (both) throw surprises when this happens. Let's see how warm we actually get this weekend and the 7-10 day could certainly change a lot between now and next week.
Stay warm and safe!
-Chris
10pm - Monday, January 15th, 2018
Quick update...
Snow really coming down in the western part of the state... Exceptional outlook for this storm is coming into reality from this afternoon's NAM model Run. From my weather page, here is the timeline strip of 3-hr accumulation output. When you add all these together, it is spot on for a forecast standard. We have to be careful in putting total forecast faith in a model, but last storm and this one have been very reliable. Let's see if it flattens out pushing south and then re-bands to the south of us overnight. If it continues to pan out, add up the last few frames for your totals.
<![if !vml]>

<![endif]>
Compare to 12 Noon and 9pm actual radar shots…
<![if !vml]>

<![endif]> <![if !vml]>

<![endif]>
For what it's worth, much of Western KY and Central KY (mostly west of I65) have been upgraded to a Winter Storm Warning. Reports from the Western Part of Kentucky are coming in at 6"… again, if you add up the 3-hr totals is right on par for the NAM model above.
Just as we've said for the past week… roads are rough going. They will be until up into the day on Tuesday. There is a lot of residual salt and new salt laid by road departments but cold temperatures are well below the effectiveness threshold. Crews will be plowing through the night in our local KYTC Districts 3 & 4. Long stretch of days for these guys n gals. Spot treating will likely take place for much of the week. Temps will struggle to get above freezing on Thursday, but a significant warmup is coming for the weekend. After this one, there is no more snow in the 5 day forecast.
-Chris
11am - Monday, January 15th, 2018
Quick update...
Snow is on the way… not "the" big one, but like Friday night, enough to cause significant travel problems. Right off, here is the expectation for snow through this afternoon thru Tuesday:
<![if !vml]>

<![endif]>
This general tells a couple of things…Models are suggesting two larger bandings with this front (general areas circled above). The first this afternoon and then the lower later this evening and overnight. Development and movement of these bands obviously will result in higher totals being shifted around. Temperatures near the Ohio River Counties looks like it will support accumulation this afternoon whle warmer mid-30s temps hold out to the central and south/east part of the state. We will have a little breeze but not significant to create major blowing snow.
Timing… tricky. All the "computer" forecasts want to start snow around the river counties with temps in the upper 20s early afternoon. By 6pm-9pm most of the central portion sees snow and then by midnight into early morning, it pushes south. Here is a 3-hour interval of anticipated accumulation from the NAM model. I am on board with this timing…You can see the lower/southeastern KY band coming into focus by 3am.
<![if !vml]>

<![endif]>
I just looked at current radar and it's nearly Noon (I started this around 11am) and here is the snap… compare it to the model 12 Noon above… looking on target:
<![if !vml]>

<![endif]>
Roads will be worse north and west through the day and conditions will downgrade toward the south and east as we head toward and into the overnight.
There is a lot of residual salt on area roads out there to help with the onset of winter precip as it arrives this afternoon and evening. But overnight, temps will be very cold and chemical treatment effectiveness will be reduced until daylight on Tuesday. Looks like a rough evening and Tuesday morning commute for most of our area.
-Chris
12 Noon - Sunday, January 14th, 2018
Additional chances of snow ahead… Quick look back...
Just wanted to take a second and do a comparison of my Wednesday forecast post from last week and the overall snow accumulation amount for the event just wrapped up. Here is the zone I indicated from last Wednesday of potential for the highest accumulations in our general region… and next is the actual recorded snow amount with the yellow spot being 6-8 totals, going down in amounts with shades of blue.
<![if !vml]>

<![endif]><![if !vml]>

<![endif]>
I really tried to stick to that from Wednesday right into Friday afternoon… all the data kept pointing to it, though many media and agency forecasts continued to indicate the heaviest snow north of Louisville and toward the Bluegrass Region. Not a bragging point, but it certainly helps me trust what I'm looking at when interpreting data versus simply absorbing and passing along another forecast opinion.
Now… for tonight. There is an indication of some light snow around the Ohio River boundary… Say a dusting to a good coating???
<![if !vml]>

<![endif]>
Going through the day Monday, temps should get into the mid-30s and we'll see a wintry mix with a change to snow later in the day and into the overnight. Banding of precip could occur anywhere along the diving artic front as we go through afternoon and evening/overnight. Here is an estimated accumulation interval. Around 2 inches is a reasonable average estimate for the highest totals.
<![if !vml]>

<![endif]>
With respect to road conditions, pavement will be cold but any snow that comes through the day Monday should be a slush. Diving temps will freeze everything up on Monday night. It won't take much snow to accumulate quickly on roads after dark.
Road crews have been working long hours… Our salute to you. Some chemical inventories are running low in some counties/cities, as well. Although I wouldn't consider what we just experienced HERE a "major" snowstorm, it takes a lot of effort and materials to clear roads because of the duration of the event. It certainly isn't good having to prepare for another event so soon.
Morning drive for Tuesday will likely be rough, once again.
-Chris
5pm - Friday, January 12th, 2018
Quick update...
Snow is really kicking in to the west and along the I65 Corridor. An incident just into Tennessee on Southbound I65 has that route backed up. It will make treating that area more difficult for road crews. Motorists on ALL ROADS should be aware of the rapidly deteriorating condition and plan accordingly. Please don't become someone an emergency crew has to rescue. Here is the current radar snap. All of this is moving east/northeast.
<![if !vml]>

<![endif]>
For what it's worth, here is the anticipated snow accumulation going FORWARD… so in addition to what's already out there to the west.
<![if !vml]>

<![endif]>
Temps will be in the mid-teens for most of us tonight. We won't get above freezing again until Monday, but there will hold our next snow chance into Monday evening. It could be an accumulating event. We'll get even colder mid-week and maybe get back above freezing by Thursday.
I'll post updates through the weekend. Stay warm and safe.
-Chris
12 Noon - Friday, January 12th, 2018
Quick update...
Freezing rain and a light mixture of ice pellets and sleet are reported across most of our area. Air temps dropped quickly before daybreak and while they are still falling, the curve has flattened out.
Here is a snapshot of KYTC road conditions across District 4 counties:
| | | | | | |
| --- | --- | --- | --- | --- | --- |
| County | Route Info | rate | Precip | Air | Pavement |
| Breckinridge | 1-2 coats of salt on A,B,&C | 400 lb/mile | Sleet | 25 | 26 |
| Grayson | A,B, and some C | 400 lb/mile | Sleet | | |
| Green | C treated Starting A & B | 250 lb/mile | Rain | 32 | 34 |
| Hardin | A only | 500 lb/mile | Mix | 31 | 30 |
| Hart | A, B, C first coat | 500 lb/mile | Mix | 32 | 31 |
| LaRue | C only, on standby | 250 lb/mile | Sleet | 30 | 39 |
| Marion | Spot treating & C covered | 250 lb/mile | rain | 32 | 36 |
| Meade | A& B only, down 1 truck | 400 lb/mile | Sleet | 28 | 29 |
| Nelson | A,B, & C first coat | 250 lb/mile | Rain | 31 | |
| Taylor | C only, down 1 truck | 250 lb/mile | Rain | 32 | |
| Washington | B & C treated | 250 lb/mile | Rain | 33 | 38 |
Radar insn't great at indicating precip type, especially transitioning frozen precip. Here is the current look… I used a wide scan shot because it is important to note all of the activity to the west and south that will train and re-develop in bands over our area.
<![if !vml]>

<![endif]>
Road conditions will continue deteriorating. Hope folks are where they need to be. I have noticed on I65 this morning there is a noticeable decrease in traffic volume.
-Chris
7am - Friday, January 12th, 2018
Quick update...
No change expected with regard to the overall message… transition to mix then snow. Messy driving. Here is the current observation.
<![if !vml]>
<![endif]>
We're in the nowcast portion of the storm. Radar and observation tells the story for the next several hours. Temps continue crashing a little quicker than the forecast. That supports more snow and less mix/sleet/ice.
-Chris